The focal point of the Rogers Arboretum is this memorial.  It features a granite obelisk topped with a bronze replica of Ron's favorite hat, which he supposedly always wore.  
To log this virtual, you will need to answer a question:  What day of the month  [1 through 31]  was this memorial dedicated?  The answer can be found at the memorial.
The memorial should be wheelchair-accessible, since you can get close to it from the arboretum's asphalt trail.  However, the parking lot is not paved; it contains big gravel pieces!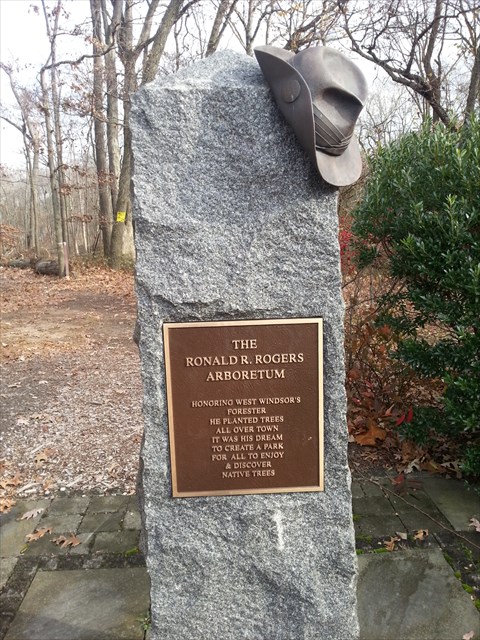 About Rogers Arboretum
The Rogers Arboretum was dedicated in honor of the late Ronald R. Rogers, who is remembered as West Windsor's Forester, an honor that reflects the tremendous time and effort he volunteered to promote and implement community forestry in the township. The purpose of the arboretum is to present the wondrous strength, beauty, and benefit of many species of Quercus or oak trees as well as ecologically-related tree species that grow in West Windsor and its environs. The site of the arboretum is a 25-acre parcel of land that consists of approximately 12 acres of open field and 13 acres of mature woodland.
The arboretum was specifically designed to feature oaks, which were Rogers' favorite trees. In addition to oak trees, it includes other native trees connected by a paved path. Included in the path are engraved bluestones which identify the specimen trees by their Latin and English names.