This cache is the first in a series of story/puzzle caches that I am placing.

The terrain on this one is not kid friendly or handicap accessible. You may be visible to construction workers across the highway at the cache location during the day. Use of stealth is advised. Take care when replacing cache and watch your step. Posted coordinates take you to a side street near final.
THE ADVENTURES OF ROOK BREAVEN BEGIN:
I awoke with a start. Where am I? How did I get here? I glance around, but nothing seems familiar. Out of habit, I check my pockets. Both my wallet and phone are gone. Did I lose them? Were they taken from me? My memory is so hazy. I try, but can't remember anything.

Absently, my gaze wanders back to what I did have on my person. In a small pile on the ground are a slip of paper, a GPS unit and a postage stamp.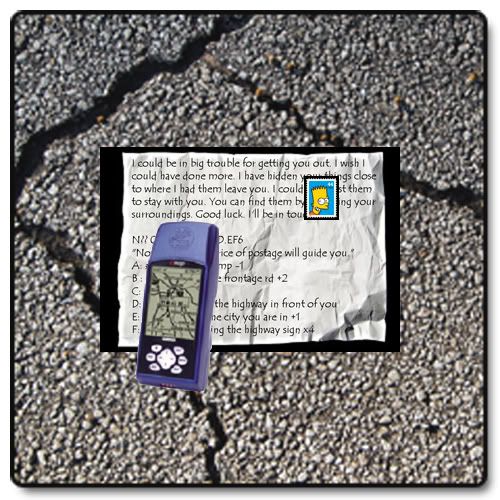 I unfold the slip of paper to find a hastily written message. It reads, "I could be in big trouble for getting you out. I wish I could have done more. I have hidden your things close to where I had them leave you. I could not trust them to stay with you. You can find them by observing your surroundings. Good luck. I'll be in touch."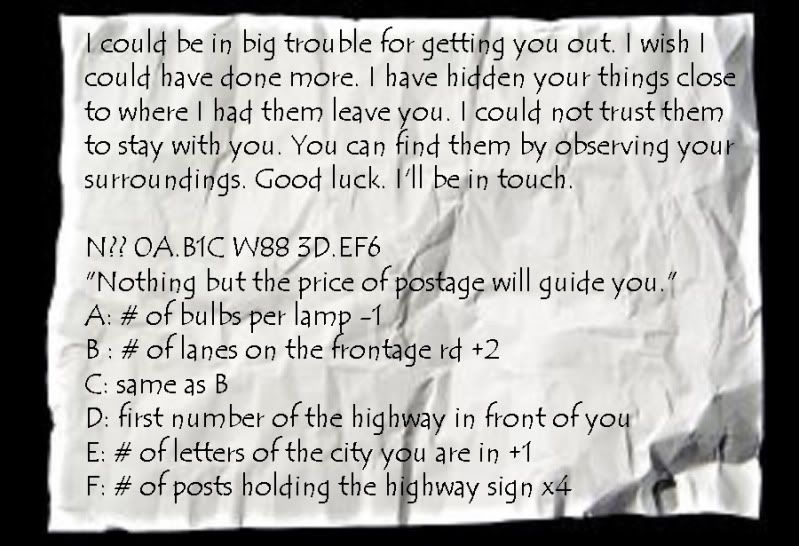 Beneath the note are parts of a coordinate and some clues:

N?? 0A.B1C W88 3D.EF6

"Nothing but the price of postage will guide you."
A: # of bulbs per lamp -1
B: # of lanes on the frontage rd +2
C: same as B
D: first number of the highway in front of you
E: # of letters of the city you are in +1
F: # of posts holding the highway sign x4