The town IS the virtual.
My son helped me discover my namesake town on our way home from Myrtle Beach, SC in 2007.  Even though, we didn't have any info on local caches or a smart phone (it WAS 2007), we had to visit and get some pics.  Now, I'm encouraging you to do the same.
We returned in 2008, but DNF'd the two local caches.  On August 16, we visited again and met up with local cachers DudleySeekers and JackPackage and finally found At The Crossroads (GC11VV6), together.  Now that I've finally found a Dudley cache, I thought it was time to list one. 
---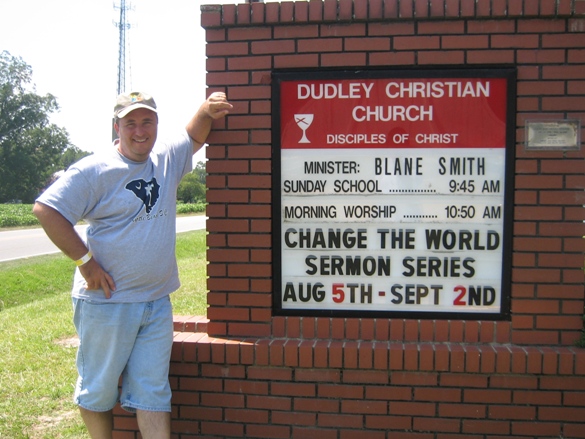 DudleyGrunt in Dudley, NC - 2007
---
LOGGING REQUIREMENTS: Visit Dudley, NC in person.  Find a sign with "Dudley" on it.  Take your photo with that sign.  You may substitute your GPS for having yourself in the photo.  Post the photo and coordinates with your log.  Each sign may only be used once and each cacher may only log this cache once.
PLEASE RESPECT THE PEOPLE OF DUDLEY & REFRAIN FROM ANY NIGHT CACHING THAT MAY DISTURB THE LOCALS.
---