World's biggest free geocaching network
Geopaths - matching lots of geocaches
Full statistics, GPX's, all for free!
Mail notifications about new caches and logs
100% geocaching posibilities for free
A Unique Walk in Akron - OU00E3

3 stage multi in a Unique Area

N 43° 01.570' W 78° 28.685'
N 43° 01' 34.20'' W 78° 28' 41.10''
N 43.02617° W 78.47808°

Hoogte: meter NAP

Provincie:
Verenigde Staten > New York

Cache soort:
Multi Cache

Grootte:
Normaal

Status:
Kan gezocht worden

Geplaatst op: 2010-10-01

Gemaakt op: 2010-10-01

Gepubliceerd op: 2010-10-01

Laatste verandering: 2011-04-23

9x Gevonden

0x Niet gevonden

1 Opmerkingen

0
Volgers

951 x Bekeken

8 x Gewaardeerd

Beoordeeld als:
uitstekend

1 x Aanbevolen
Deze cache is aanbevolen door: Mr.Yuck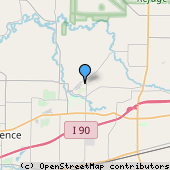 Cache attributen





Beschrijving
EN
This 3 stage cache will take you on a walk in a Unique area of State Land in Akron NY. There are 3 marked trails. A Blue Trail,Yellow Trail and Red Trail. Each waypoint will be about 100 to 140ft off the trail so no serious bushwhacking will be necessary. You will need to use all 3 trails to complete your quest. The Akron area is notorious for its jumpy satellite reception. I averaged each waypoint over 300 times just be patient and let your compass settle down at each spot. I hope you will find this an enjoyable and challenging walk. First 2 stages are small/micro final is a genuine 50 caliber ammo box with a few trade items and choice of 2 new fishing lures for the FTF.

Extra waypoints
| WP nummer | Symbool | Soort | Coördinaten | Beschrijving |
| --- | --- | --- | --- | --- |
| | | Parkeerplaats | --- | Parking |

Extra hints
Fgntr 1 zvyx obggyr
Fgntr 2 Vz oebxra
Fgntr 3 fgneg ybbxvat ng gur vagrefrpgvba bs lryybj naq erq
Stage 1 milk bottle
Stage 2 Im broken
Stage 3 start looking at the intersection of yellow and red
A|B|C|D|E|F|G|H|I|J|K|L|M
N|O|P|Q|R|S|T|U|V|W|X|Y|Z
Decoderen
Logs:

9x

0x

1x