The coordinates at the top of the page are for the Fountain in Pulteney Park, in Geneva, N.Y. It is one of 52 locations on the South Main St. walking tour at the website Southmainst.com. Geneva is a City of 13,000 residents at the North end of Seneca Lake, the largest of the Finger Lakes. While at that website, (which nicely uses the same color scheme as Opencaching.us) click on the "Head to the first property on the tour" link, as shown below: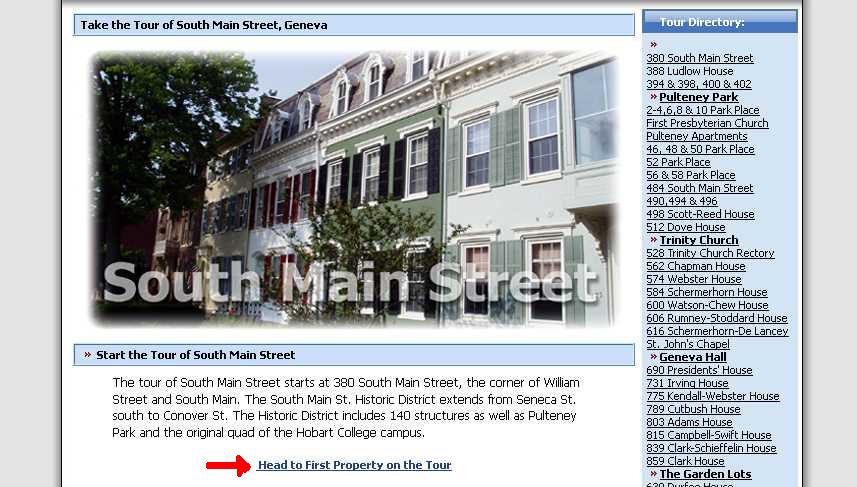 Clicking on that link will take you to a slide show, with great information and historic photos of all 52 locations, most of which were built from 1825-1850. In addition to the interesting Fountain, there are Rowhouses, several churches, as well as Fraternity Houses and Administrative buildings for Hobart College. If you're an architecture fan, you will not be disappointed with the South Main St. walking tour. 
YOUR MISSION: 
Have your picture taken in front of any four (4) of the 52 locations on the walking tour. Your choice! If by your lonesome, or if you are camera shy, a pic of you holding your GPS unit in front of one of the locations works fine. Some of these are Rowhouses with multiple addresses, and large private homes. I really don't recommend that. Do you really want to take a picture of yourself in front of someone's house, whether it's historic, and built in 1830 or not? I probably wouldn't. 
I would recommend taking a notepad, or making notes on your Cell Phone of which locations you are taking the pictures at. Do some research ahead of time, and make a plan. Please upload 4 photos (remember the 100KB maximum per picture rule, and that OCNA does not automatically resize photos), and indicate which location on the tour it is.