I have a feeling there will be LOTS of other cachers in this park on May 26, 2012, including OCNA members from around the country.
We will plan to meet up at 1:00 pm near the main GW event log.  If you can't be there then, just keep an eye out for me.  I plan to be wearing an ebroidered OpenCaching t-shirt, my caching vest, a TerraCaching cap.  (see photos below).
Depending on the layout and schedule of events, the details may vary.  Figure we may as well meet up and make it official, this time.
Do be sure to add a "Will attend..." log to the cache page and watch the listing. 
I'll post updated details, once I've got a better idea of the the details of the other event going on around us.
I am posting the hours as 9-5, so even if you end being here too late or too early, look for me and I'll have the log book on me.
If you have any Moving Caches, traveling BITcaches, or  GeoKrets to be logged or moved along, bring them with you.

Hopefully, this will be the best attended OCNA event, to date.

---
Sellersburg IN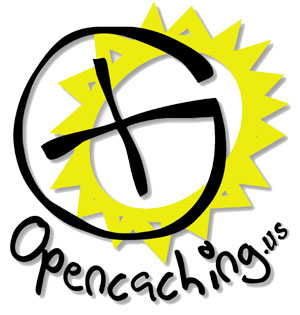 26 May 2012
---
Thanks to Podcacher for the shout out on Episode 372: Bombs & Bears!
---
For information on the big event that will be going on all around us, check out the official GeoWoodstock X website.