World's biggest free geocaching network
Geopaths - matching lots of geocaches
Full statistics, GPX's, all for free!
Mail notifications about new caches and logs
100% geocaching posibilities for free
Cheektowaga Historical Society - OU0462
and museum.

N 42° 54.192' W 78° 45.122'
N 42° 54' 11.52'' W 78° 45' 7.32''
N 42.90320° W 78.75203°

Altitude: m. ASL.

Region:
United States > New York

Cache type:
No translation available (id: )

Size:
No container

Status:
Archived

Date hidden: 2012-04-19

Date created: 2012-04-19

Date published: 2012-04-19

Last modification: 2015-06-13

4x Found

1x Not found

0 notes

0
watchers

39 visitors

4 x rated

Rated as:
Average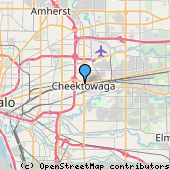 Cache attributes






Description
EN
From http://cheektowagahistory.com

The Cheektowaga Historical Association Incorporated is chartered by the State of New York Board of Regents and is a Not-For-Profit Corporation recognized as a public charity under section 501 (3) (c) of the internal revenue code.

The Cheektowaga Historical Association collects, preserves and exhibits artifacts and other material depicting or directly affecting life in the area of the Town of Cheektowaga.

The association uses these artifacts to inform and educate the public about lifestyles and livelihoods of its residents. The collections try to tie the past to the present by showing the changes that influenced the growth of Cheektowaga.

The museum is located at 3329 Broadway next door to the town hall and in front of the senior center. We are open the first Sunday 2-4 PM of each month. We will also open by appointment, 684-6544.

Our museum has displays from the early days of Cheektowaga to the most recent memory of the Buffalo Drive In.
Log entries:

4x

1x

0x