The coordinates on the top of the page are for the gate to the Temple grounds!! Use the 3 additional Waypoints to get there, and navigate around the grounds. Two of these Waypoints below are for your logging requirements, not that you probably couldn't find them without the GPSr.
 What is the Temple of Tolerance? Basically a large rock garden in Jim Bowsher's backyard in the small City of Wapakoneta, Ohio (Pop. 10,000). But it's not just your average small City residential lot, Jim has acquired large portions of all his adjoining neighbors backyards, and constructed his Temple, which is said to have taken 18 years to build.
 How was the Temple complex built? Jim acquired an Army Surplus dump truck, and collected all the materials himself. The boulders are said to be mostly unwanted Glacial Erratics from the fields of nearby farmers. Better they end up in Jim's backyard, rather than a lame excuse for an Earthcache, eh?
How do you get there? Jim's address is 203 S. Wood Street. However, you have to go down a couple houses to the entrance to a crushed stone alley (Waypoint given below), and walk a couple hundred feet to the gate to the Temple grounds (coordinates at the top of the page). You will be amazed by this rock garden, trust me. In addition to the main Temple (about 15-20 feet high), there is a Vietnam Veteran's memorial, and a "tree of life" built by local school children, as well as many other creations.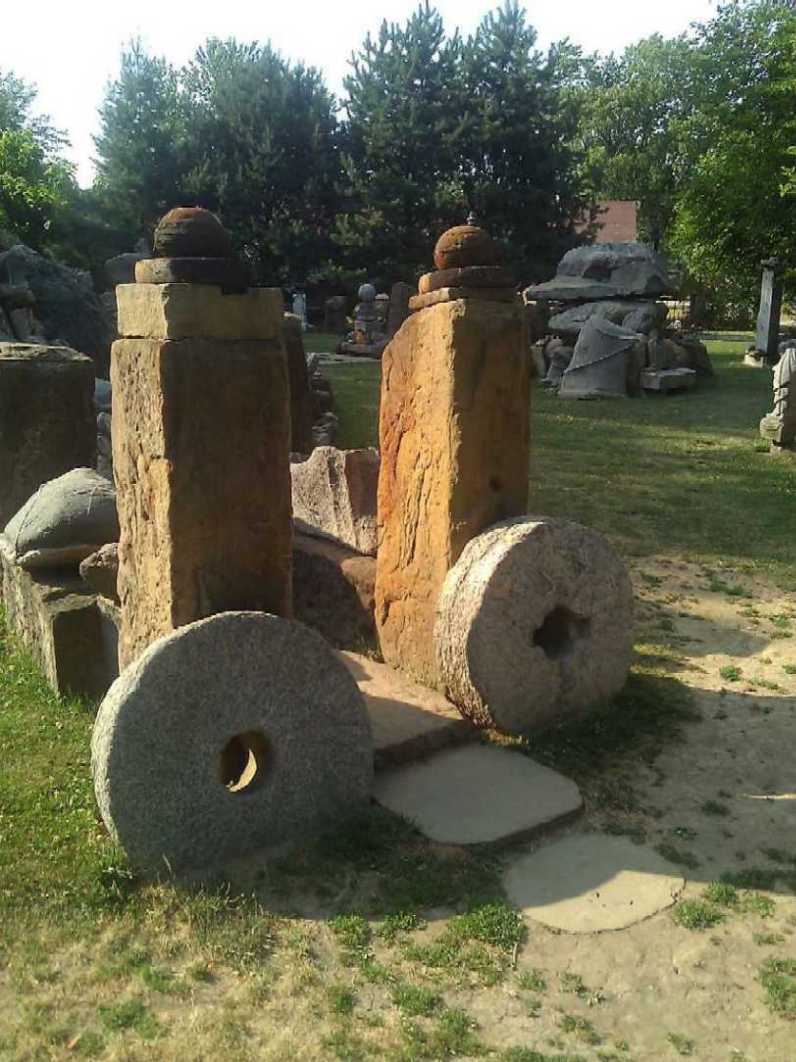 HOW TO LOG THIS VIRTUAL CACHE:
1) Proceed to the entrance to the stairway of the main Temple of Tolerance as shown in the picture above, and have your picture taken in front of it, or your hand holding your GPSr in front of it, if you wish. Coordinates below as an additional Waypoint, not that you should need them.
2) Find the large round red stone tablet being used as a table. This is not terribly far from the main gate. Coordinates listed below as an additional waypoint. It's also visible in the picture below of my Son holding (I presume) Jim's cat. Your logging password is the 4 digit year on the top of this round red disc.
Enjoy your visit! Many people meet Jim, but I personally did not, while visiting about 6:00 PM on a Sunday evening. There is a 5 star difficulty Geocaching.com cache here, which requires you to collect clues, and is said to take "a few hours". The Temple is not Waymarked, unless I do it myself later. Just Google Temple of Tolerance for plenty of reading. Not like there's another Temple of Tolerance anywhere! Wapakoneta is the birthplace of the first man on the Moon, Neil Armstrong, and he graduated from Wapakoneta H.S. The City is home to the Neil Armstong Air and Space Museum, although I did not visit.