World's biggest free geocaching network
Geopaths - matching lots of geocaches
Full statistics, GPX's, all for free!
Mail notifications about new caches and logs
100% geocaching posibilities for free
Why Do Cats Climb Trees? - OU0680
A nice area for a little cache

Please log in to see the coordinates.

Altitude: m. ASL.

Region:
United States > Ohio

Cache type:
Traditional

Size:
Micro

Status:
Ready for Search

Date hidden: 2013-08-09

Date created: 2013-08-10

Date published: 2013-08-10

Last modification: 2013-08-10

3x Found

0x Not found

1 notes

0
watchers

412 visitors

2 x rated

Rated as:
n/a
In order to view coordinates and
the map of caches
you must be
logged in

Cache attributes





Description
EN
I think cats climb trees for lots of reasons and I'll list a few here. But I think you know which one of these reasons is the REAL reason cats climb trees...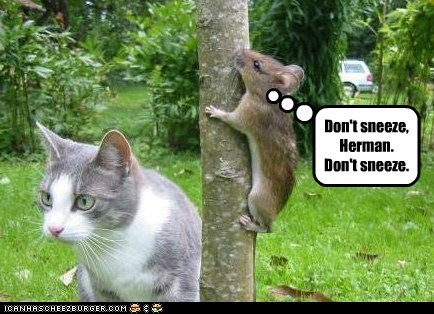 1. Cats are predators so they want a better view of their surroundings for the attack.
2. Cats can escape animals that might be chasing them.
3. Cats climb trees for fun, you know, sort of like why people climb trees if they aren't arborists.
4. Cats see something in the tree that "caches" their attention (like a bird or a squirrel) and just can't resist checking it out.

Additional hints
You must be logged-in to see additional hints

Pictures
Log entries:

3x

0x

1x