World's biggest free geocaching network
Geopaths - matching lots of geocaches
Full statistics, GPX's, all for free!
Mail notifications about new caches and logs
100% geocaching posibilities for free
LaSalle Park No. 1 - OU06C0
BIT on the Buffalo Waterfront

N 42° 53.789' W 78° 54.105'
N 42° 53' 47.34'' W 78° 54' 6.30''
N 42.89648° W 78.90175°

Höhe: m ü. NHN

Region:
Vereinigte Staaten > New York

Cacheart:
No translation available (id: )

Größe:
Kein Behälter

Status:
Kann gesucht werden

Versteckt am: 2013-09-29

Erstellt am: 2013-09-27

Veröffentlicht am: 2013-09-29

Zuletzt geändert am: 2013-09-29

1x gefunden

0x nicht gefunden

0 Bemerkungen

0
Beobachter

435 Aufrufe

0 x bewertet

Bewertet als:
n/a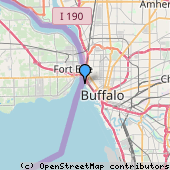 Cacheattribute







Beschreibung
EN
---
This is a BIT Cache. This is a laminated tag, similiar in size and appearance to a Munzee.
In addition to being the home of Buffalo's only official dog park, LaSalle Park is Buffalo's largest waterfront park, located at the junction of Lake Erie and the mouth of the Niagara River. LaSalle Park parallels Buffalo's waterfront, the breakwall, and the Erie Basin Marina. It is also home of the historic Colonel Francis G. Ward Pumping Station of the Buffalo Municipal Water Authority, as well as Buffalo's Centennial Pool, which reopened in 2010 after being renovated. The path along the waterfront is part of the Riverwalk link, which provides public access from northern Erie County to downtown Buffalo. Amenities and activities also include: rollerblading; walking; jogging; bicycling; softball fields; baseball fields; football field; soccer fields; playground; amphitheater and meadow.
LaSalle Park is open to the public year-round.
Source: thebarkyard.org

Verschlüsselte Hinweise
haqre fvta
under sign
A|B|C|D|E|F|G|H|I|J|K|L|M
N|O|P|Q|R|S|T|U|V|W|X|Y|Z
Entschlüsseln
Logeinträge:

1x

0x

0x