World's biggest free geocaching network
Geopaths - matching lots of geocaches
Full statistics, GPX's, all for free!
Mail notifications about new caches and logs
100% geocaching posibilities for free
Why is there a Lighthouse here? - OU00CA
There's a lighthouse along the banks of the St Clair River but why and how did it get there?

N 42° 42.981' W 82° 29.500'
N 42° 42' 58.86'' W 82° 29' 30.00''
N 42.71635° W 82.49167°

Altitude: m. ASL.

Region:
United States > Michigan

Cache type:
Virtual

Size:
No container

Status:
Ready for Search

Date hidden: 2010-09-25

Date created: 2010-09-26

Date published: 2010-09-26

Last modification: 2010-11-29

2x Found

0x Not found

0 notes

0
watchers

6 visitors

2 x rated

Rated as:
n/a

Cache attributes







Description
EN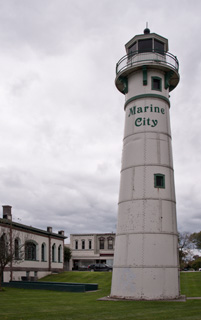 Along the banks of the St Claire River is a cast iron light house where it doesn't seem one should have been constructed. The reason is simply that it wasn't constructed there, but rather moved to this location after it was decommissioned in 1982. According to Wikipedia the tower's "...weight is 35 tons and with the height of 66 feet (20 m) and a diameter of 14 feet (4.3 m)...."
To log this cache you'll need to visit this transplant and find a plaque with information about it's 1983 dedication to the city. Use the first word from that plaque (in all caps) as the password to log the cache. If you're so inclined, we'd like to read your theory as to how the Coast Gaurd was able to move this large metal structure to this site in your log. We would also love a photo of you and your team at the site but that is not required.

Additional hints
Gur cyndhr vf nggnpurq gb gur yvtugubhfr ba gur fvqr snpvat gur fgerrg
The plaque is attached to the lighthouse on the side facing the street
A|B|C|D|E|F|G|H|I|J|K|L|M
N|O|P|Q|R|S|T|U|V|W|X|Y|Z
Decode

Pictures
Log entries:

2x

0x

0x