World's biggest free geocaching network
Geopaths - matching lots of geocaches
Full statistics, GPX's, all for free!
Mail notifications about new caches and logs
100% geocaching posibilities for free
Balanced Rock - OU07E7
sandstone rocks

N 38° 42.037' W 109° 33.863'
N 38° 42' 2.22'' W 109° 33' 51.78''
N 38.70062° W 109.56438°

Altitude: m. ASL.

Region:
United States > Utah

Cache type:
Virtual

Size:
No container

Status:
Ready for Search

Date hidden: 2015-05-10

Date created: 2015-05-10

Date published: 2015-05-10

Last modification: 2015-05-11

1x Found

0x Not found

0 notes

1
watchers

14 visitors

1 x rated

Rated as:
n/a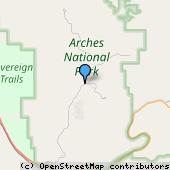 Cache attributes


Description
EN
Balanced Rock in Arches NP is a striking erosional feature, carved by wind, water, and ice wedging, from two members of the Entrada Formation. The upper, the Slick Rock member, is relatively resistant to erosion. The lower, the Dewey Bridge member, is eroded more easily. That difference leads to the formation of balanced rocks and spectacular arches in Arches National Park.
Log entries:

1x

0x

0x