World's biggest free geocaching network
Geopaths - matching lots of geocaches
Full statistics, GPX's, all for free!
Mail notifications about new caches and logs
100% geocaching posibilities for free
The Shortcut - OU08E4
Cache is located along a short path that serves us as a shortcut to the nearby pool and slurpee store.

N 49° 51.542' W 97° 18.896'
N 49° 51' 32.52'' W 97° 18' 53.76''
N 49.85903° W 97.31493°

Altitude: m. ASL.

Region:
Canada > ?

Cache type:
Traditional

Size:
Small

Status:
Ready for Search

Date hidden: 2014-05-05

Date created: 2015-08-20

Date published: 2015-08-20

Last modification: 2015-08-20

0x Found

0x Not found

0 notes

0
watchers

46 visitors

0 x rated

Rated as:
n/a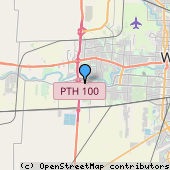 Cache attributes



Description
EN
We were surprised to see here were no caches located here as it serves as a great place for a hide in a largely residential area.
This cache will be relatively difficult for new cachers and possibly quite easy for seasoned ones.

It is VERY not winter-friendly.

As I write this I've realized there is no writing stick in the cache, even though there is room. Cache size is between a micro and a small.

No need to poke or dig under the green boxes.

Initial contents include the log, a pin and a couple pathtags. There is room for a few more smaller trade items.

Good luck and happy hunting!

Additional hints
Ybbx ybj naq qba'g trg gbb pybfr, lbh zvtug trg jrg ;)
Look low and don't get too close, you might get wet ;)
A|B|C|D|E|F|G|H|I|J|K|L|M
N|O|P|Q|R|S|T|U|V|W|X|Y|Z
Decode
Log entries:

0x

0x

0x