World's biggest free geocaching network
Geopaths - matching lots of geocaches
Full statistics, GPX's, all for free!
Mail notifications about new caches and logs
100% geocaching posibilities for free
Parry Sound Lookout Tower - OU0A35
Parry Sound's 96-foot Look-Out tower overlooking Beautiful Georgian Bay

N 45° 20.362' W 80° 01.661'
N 45° 20' 21.72'' W 80° 01' 39.66''
N 45.33937° W 80.02768°

Altitude: m. ASL.

Region:
Canada > Ontario

Cache type:
Virtual

Size:
No container

Status:
Ready for Search

Date hidden: 2016-10-31

Date created: 2016-10-31

Date published: 2016-10-31

Last modification: 2017-08-25

1x Found

0x Not found

0 notes

0
watchers

303 visitors

1 x rated

Rated as:
n/a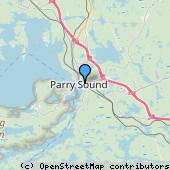 Cache attributes







Description
EN
The Parry Sound Forest Fire District was founded by Ontario's former Department of Lands and Forests (now the MNR) in 1922 as one of 17 districts to help protect Ontario's forests from fire by early detection from fire towers. The headquarters for the district were housed in town. It was the central location for 18 fire tower lookouts, including the Parry Sound fire tower, which was erected in the same location as the modern lookout tower at 17 George Street. In the 1970s all the towers had been decommissioned as aerial fire fighting techniques were employed.
Please log only if you have been up there and you must include a photo of the scenic view from the top.
Log entries:

1x

0x

0x

3x