Data: 01/17/2018 23:09:42, add by Bon Echowas listed on Terracaching.com as TC4YAO
 This OCNA cache contains a logging password - be sure to record the password when you find the cache.

This cache was originally listed on Terracaching.com but I have decided to archive it there and list it on OCNA. I will check on the cache and will change out the logbook when I get around to it (will likley add a log password at that time).

The updated description:

Out on the Bruce Trail on a cold winter day. Saw a large flat rock high up on the hillside, a perfect place to plant a cache. Climbed up and placed the Opencache that I had with me. Once back on the trail I realized how close I was to a grounsdpeak cache, an older one that we found about 4 years ago. Yeah it's close but the Opencache is higher and drier. About twice the distance off the trail and more than twice the elevation change. It's about 50 meters off the trail and about 50 feet above the trail.

Park at Battlefield Park, find the Bruce Trail at the back of the park, and head west. Or, for a shorter (but less interesting) hike, park by the waterworks property on Greenhill Ave and pick up the Bruce Trail near the back of the park, heading east. Parking waypoints have been provided for both.

This photo was taken from the trail. You can see the large rock under which the cache is hidden. It is a bit of a scramble up to the cache.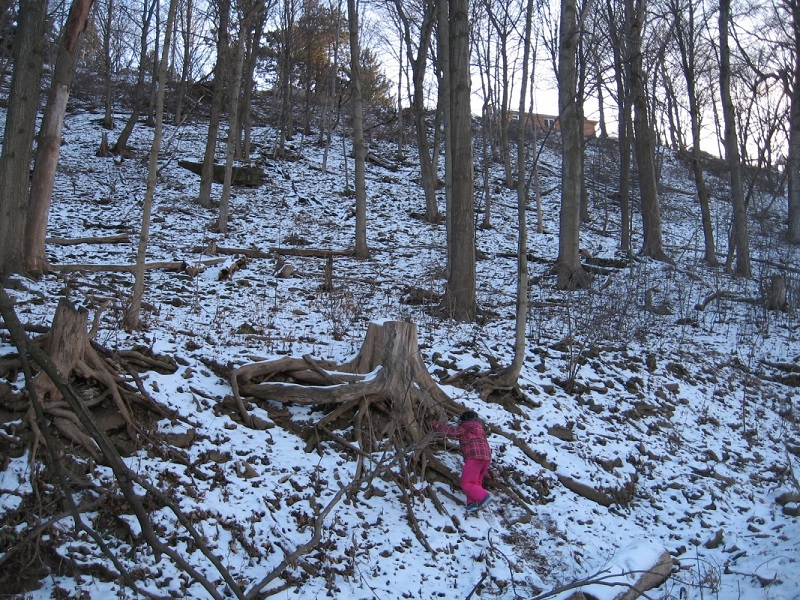 Cache maintenance log:
2018-01-27. Cache checked - it's in great shape. Logbook updated and Logging password added