World's biggest free geocaching network
Geopaths - matching lots of geocaches
Full statistics, GPX's, all for free!
Mail notifications about new caches and logs
100% geocaching posibilities for free
Giant Metal Chicken of Death - OU02C2
Giant Metal Chicken of Death vitrual cache!

N 43° 11.324' W 78° 39.666'
N 43° 11' 19.44'' W 78° 39' 39.96''
N 43.18873° W 78.66110°

Hoogte: meter NAP

Provincie:
Verenigde Staten > New York

Cache soort:
Virtuele Cache

Grootte:
Geen behuizing

Status:
Kan gezocht worden

Tijd: n/b

Lengte: 0.30 km

Geplaatst op: 2011-07-01

Gemaakt op: 2011-06-24

Gepubliceerd op: 2011-07-01

Laatste verandering: 2011-07-01

8x Gevonden

0x Niet gevonden

0 Opmerkingen

1
Volgers

350 x Bekeken

7 x Gewaardeerd

Beoordeeld als:
goed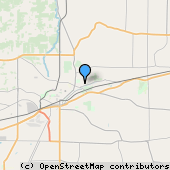 Cache attributen




Beschrijving
EN
If you have ever walked along the Erie Canal towpath east of Lockport, you have probably noticed a giant metalic chicken at a near by fruit farm.  Why it's there, I don't know.  It may be there to scare off birds or prevent children from stealing apples.  Perhaps it wards off evil spirits.  I do know that the thing is darn tall.  I have not spoken to the owner so you cannot access the property for a close up.  If you wish to have a closer look, you do so at your own risk.  The thing is large enough to see from the canal pathway.  To log this cache, head to the posted coords and look to the north (away from the canal).  Then you need to take a picture of yourself on the trail with the chicken in the background.  If you are camera shy, a photo of your GPS with the chicken in the background will do.  Also, email/PM me how high you think the Giant Chicken of Death is.
Logs:

8x

0x

0x

9x