World's biggest free geocaching network
Geopaths - matching lots of geocaches
Full statistics, GPX's, all for free!
Mail notifications about new caches and logs
100% geocaching posibilities for free
River View - OU0312
Not far from parking but not an easy path to the cache.

N 43° 05.299' W 81° 09.966'
N 43° 05' 17.94'' W 81° 09' 57.96''
N 43.08832° W 81.16610°

Altitude: m. ASL.

Region:
Canada > Ontario

Cache type:
Traditional

Size:
Regular

Status:
Ready for Search

Time required: 0:30 h

Distance to travel: 0.50 km

Date hidden: 2011-08-29

Date created: 2011-08-29

Date published: 2011-08-29

Last modification: 2011-08-29

1x Found

0x Not found

0 notes

0
watchers

469 visitors

1 x rated

Rated as:
n/a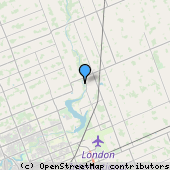 Cache attributes





Description
EN
This cache is located between Rebecca Rd and the Thames River. During the peak of summer this area is very over grown and "River View" is not likely. But the other 3 seasons you should be able to see the river from here.
Take the trail leading towards the river... well thats the way I went. I have no idea what the bushwack would be from the main trail. Either way you are in for some bushwacking so don't wear your Sunday Best.

Additional hints
fznyy pyrnevat, fubeg sbyxf zvtug arrq n obbfg.
small clearing, short folks might need a boost.
A|B|C|D|E|F|G|H|I|J|K|L|M
N|O|P|Q|R|S|T|U|V|W|X|Y|Z
Decode
Log entries:

1x

0x

0x