World's biggest free geocaching network
Geopaths - matching lots of geocaches
Full statistics, GPX's, all for free!
Mail notifications about new caches and logs
100% geocaching posibilities for free
Las Ceibas Centenarias - OU0B55
Tener cuidado ya que tienen que cruzar la carr. PR#2 que es muy transitada.

N 18° 27.774' W 66° 55.594'
N 18° 27' 46.44'' W 66° 55' 35.64''
N 18.46290° W 66.92657°

Altitude: m. ASL.

Region:
Puerto Rico > Puerto Rico

Cache type:
Traditional

Size:
Regular

Status:
Ready for Search

Date hidden: 2011-11-08

Date created: 2019-02-04

Date published: 2019-02-04

Last modification: 2019-02-04

0x Found

0x Not found

0 notes

0
watchers

759 visitors

0 x rated

Rated as:
n/a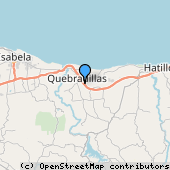 Cache attributes



Description
ES
Este cache esta localizado en Las Ceibas de Quebradillas, me di cuenta que ningún cacher había puesto uno y aproveche ya que Las Ceibas son hermosas. Ahora tienen 3 buenísimas razones para contemplar con detenimiento Las Ceibas Centenarias.

Extracto sacado de http://www.norteycentro.com/lugar_detalle.php?id=123
Éstas estuvieron en riesgo de ser derribadas cuando se comenzaron los trabajos de ensanche de la carretera Militar (PR-2) en 1989, pero un grupo de quebradillanos se unió para defender la permanencia de estos árboles, cuya especie hoy día está protegida en Puerto Rico. Tras el reclamo de este grupo de quebradillanos, el Gobierno de Puerto Rico determinó en aquel entonces "abrir" la carretera hacia izquierda y derecha, dejando de por medio a las dos majestuosas ceibas. Es por eso que representan la unión de un pueblo en pos de la naturaleza y la cultura.

Para su conveniencia aqui les dejo un articulo del periodico puertorriqueño Primera Hora.
https://www.primerahora.com/noticias/puerto-rico/nota/laceibadelcamino-1244054/

Additional hints
Ohfpn nqrageb l rapbagenenf.
Ybbx vafvqr naq lbh jvyy svaq.
Busca adentro y encontraras.
Look inside and you will find.
A|B|C|D|E|F|G|H|I|J|K|L|M
N|O|P|Q|R|S|T|U|V|W|X|Y|Z
Decode
Log entries:

0x

0x

0x