World's biggest free geocaching network
Geopaths - matching lots of geocaches
Full statistics, GPX's, all for free!
Mail notifications about new caches and logs
100% geocaching posibilities for free
The Founding Of Simcoe - OU0B61

N 42° 50.406' W 80° 18.252'
N 42° 50' 24.36'' W 80° 18' 15.12''
N 42.84010° W 80.30420°

Altitude: m. ASL.

Region:
Canada > Ontario

Cache type:
Virtual

Size:
No container

Status:
Ready for Search

Date hidden: 2019-07-14

Date created: 2019-07-15

Date published: 2019-07-21

Last modification: 2019-07-30

1x Found

0x Not found

0 notes

0
watchers

1247 visitors

0 x rated

Rated as:
n/a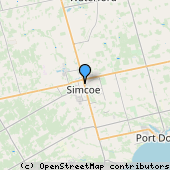 Cache attributes




Description
EN
Lieutenant-Governor Simcoe's visit to this locality in 1795 led to a grant to Aaron Culver, one of the districts earliest settlers, on condition of building mills. By 1812 a hamlet had formed near these mills, but they were burnt and adjacent houses looted by U.S. troops in 1814. In 1819-23 Culver laid out a village which he named "Simcoe" and a post office with this name was opened in 1829. streets were surveyed in 1835-36, a court-house and gaol built, and Simcoe was made the seat of the new Talbot District in 1837.
The Password Is the year simcoe became the County town of Norfolk County.
(found on plaque)
Log entries:

1x

0x

0x

1x