Cache checked March 10 2018 and found to be in great shape.
This traditional Opencache is located off the Adam Dopko sidetrail in Grimsby. We've hiked the Bruce Trail above this side trail but today was our first time ascending the side trail. It's an impressively scenic trail but tough! With all the freshly fallen leaves we were having a hard time with all the sticks and stones trying to twist our ankles. We probably made it half way up before turning back. It's 2 kms from the trailhead to the Bruce, and reportedly 35-40 minutes.
The cache is a 1L Nalgene bottle, tucked into the stump of a multitrunked Basswood tree. Contains a few small trade items, the logsheet, and a pencil. Enjoy views over Lake Ontario during the "leafless" times of the year (November to early May).
You can park on the south side of Main Street (see the Parking waypoint). Or access from the Bruce Trail - Parking on Woolverton Rd, follow the Bruce for 2 kms to the Adam Dopko Side trail, then follow the trail down about 1.3kms to reach the cache.

GPS signal bounce is pretty much standard along the edge of the Niagara Escarpment. Coordinates were taken with a Garmin Colorado 400t, and were averaged over 3 minutes.
Here is a photo of the cache location. Lake Ontario is visible in the background.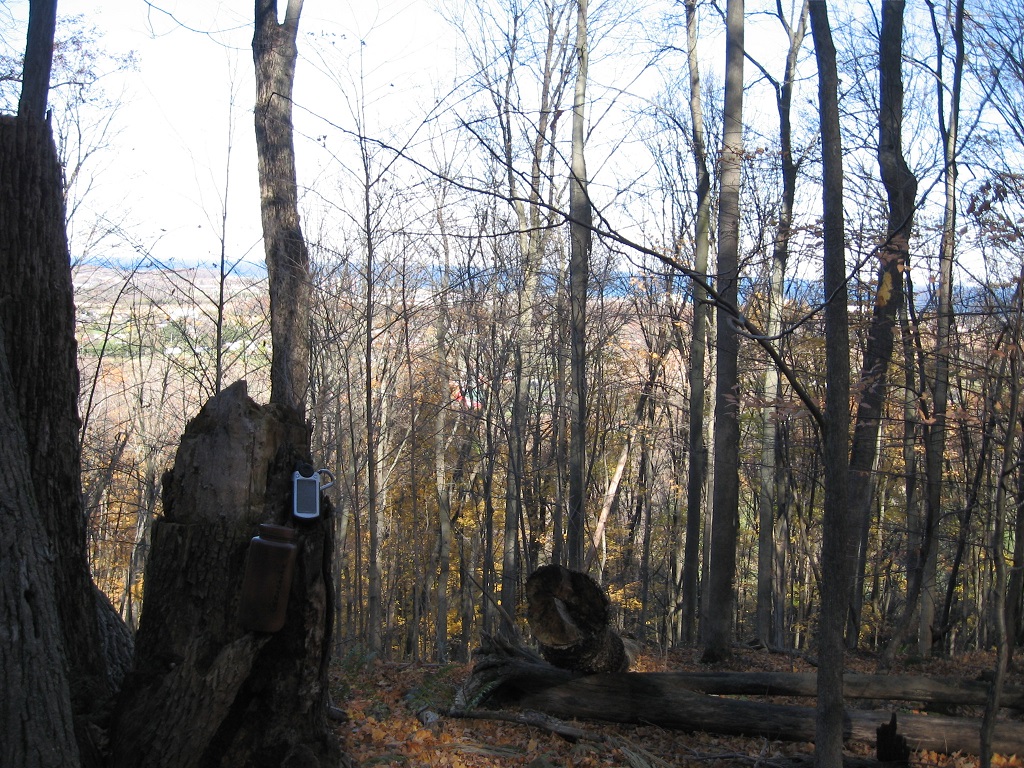 Kids at the cache...Niagara Escarpment in background